Torwood Castle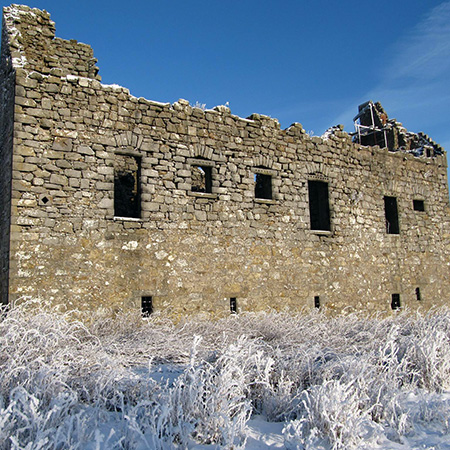 Situated on an elevated site just West of the Stirling-Falkirk highway near Larbert, Torwood Castle is an impressive example of those structures built during the excitement of medieval Scotland. Constructed of yellow sandstone, the architecture is Scots baronial with three floor levels rising majestically to beautifully proportioned, crow-stepped gables - one of the Castle's most striking features.
Two charters bearing the great seal and dated 1450 and 1463, conveyed the lands known as the King's Royal forest of Tor Wood to the family Forrester with a provision requiring them to live there and provide timber for the King's artillery. The office of forester became hereditary in this family and in 1566 Sir Alexander Forrester, of Garden, built Torwood Castle. The Castle remained in the possession of family Forrester until near the middle of the 17th century.
In 1946 (some research shows the acquisition to be 1957 and moving in during 1961-62) Gordon MacLachlan Millar, of Glasgow, acquired Torwood Castle as a ruin and dedicated nearly fifty years of his life to its restoration. He was intrigued with the fact that the old Roman road passed right through the Castle grounds where Siward the Dane in pursuit of McBeth and the English in suppression attempts on the Scots passed this way. He knew too that, within easy walking distance, stands a 2500-year old broch built by the Picts - the earliest known inhabitants of Scotland. Of considerable interest also is that bit of history that has Bruce, together with Randolph, Douglas and Steward using Torwood as a forward headquarters before Bannockburn. Gordon Millar died on April 6, 1998 but not before establishing the Torwood Castle Trust - a registered charity dedicated to restoring Torwood Castle and thereby preserving an important part of Scottish history.

As of October 2015, the Torwood Castle Charitable Trust is no longer extant. Torwood Castle is currently listed in the Buildings at Risk Register for Scotland.
Directions to the castle - From Larbert, take the Falkirk-Stirling highway approximately 2 miles toward Stirling. Turn left on the Glen Road, proceed up the hill approx. 3/10ths mile and turn left at a small green sign saying, Public Right of Way to Denovan 3 km. Torwood Castle is at the end of the lane.
Onsite Torwood Contact:
Andrew Bryce
011 44 1324 554 739 (when calling from the US)
1324 554 739 (when calling from within Scotland)
Photos and Videos of Torwood Castle and the Surrounding Area