Historic Corstorphine, its Christian History and
Subsequent Connections with the Forrester Family
PART 5
by Annette Hixenbaugh, Oklahoma Regional Commissioner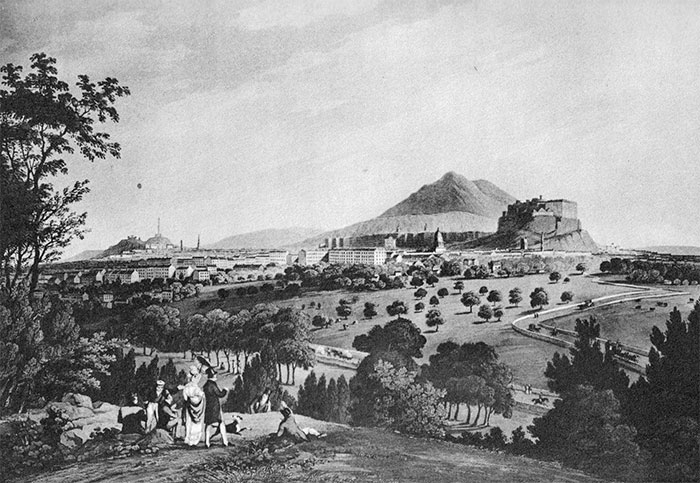 View of Edinburgh from Corstorphine Hill, 1824
From 1375 to 1379 Adam was Custumar of Edinburgh. In this position, he collected the duty on exports which form a valuable contribution to the King's revenue. Between 1370 and 1379, the yearly revenue collected was around 10,000 PS. Much of Adam's work as Custumar concerned ships lying at Leith loaded with wool, most particularly, wool from the monks of Melrose Abbey. There was also a considerable trade in woodfells (sheepskins) and hides. Adam was responsible for paying expenses from the revenue money, such as in 1379 when, at the King's command, he supplied wine to John de Danieltoun. As a mark of royal favor, Adam was allowed in 1379 to bring, free of duty, supplies of grain, possibly for malting, from the English town of Barton.
Scots merchants, who had considerable trade with the Baltic countries and the continent of Europe, started in the 14th century to take their goods overseas themselves instead of leaving such transactions to the Flemings. Middleburg began to assume importance as the Scottish staple on the continent and later it was Bruges. John Wigmer, an Edinburgh merchant burgess, had his cargoes, worth 4000PS, plundered when his ship foundered on the Northumberland coast. The Wigmer family would not be unknown to Adam Forrester as Wigmer was Alderman or Provost 1343 and 1347. Moreover, Wigmer heraldry appears alongside Forrester heraldry in Corstorphine Church, indicating marriage between the two families. Sir William Wigmer, a Scottish knight, ransomed in 1403 after the Battle of Homildon Hill, is recorded in the Account Rolls of the Priory of Holy Island.
Another wealthy trader, John Mercer of Perth, found himself in trouble in 1375, when on his way home from the continent his ship was wrecked on the English coast. Her merchandise was seized and he was held to ransom in Scarborough Castle. Adam Forrester stood as security for part of Mercer's ransom. It is interesting that in Colonial America, the Mercers and the Forresters intermarried at least once.
In 1377, Adam became the owner of Fairliehope in Peebles-shire, a mile north of Carlops, in the north Esk valley. The Pentland Forest, in medieval times, was a hunting area and traditionally Fairliehope, where three glens meet, was a hunting seat. Later, James V in 1536 confirmed a grant of Fairliehope by the 3rd Earl of Morton to James Forrester of Meadowfield, when Alexander Forrester resigned his possession. It came back to the Corstorphine Forresters when James of Meadowfield married Alexander's daughter, Agnes. Fairliehope was still in Forrester hands in 1634, when George Forrester was called on to establish his title to the lands. Sometime thereafter, however, Fairliehope was in the possession of William Thomson, W.S. Lyon Depute 1666, who died in 1693.
In 1379, Adam purchased Drylaw and Nether Liberton. It remained a Forrester possession until 1612 when George Forrester sold it to Alexander Gibson of Wester Granton.
Robert II, in 1379, granted Adam, then Lord of Corstorphine, Fairliehope, Drylaw, and Nether Liberton, twenty marks from the burgh mails of Edinburgh, in exchange for the same sum from the Edinburgh customs. The Accounts for the Custumar for Linthlgow in 1380 noted money paid to Adam for the use of the Duke of Rothesay. Adam became Sheriff of Lothian in 1382. The same year, he added to his properties, a tenement within the city of Edinburgh and Wrighthouses, outwith the town "juxta Burgum". He also had a grant of the hostilagia of Traquar."
"Robertus, etc. Sciatis, nos dedisse concessisse et hac presenti carta nostra confirmasse dilecto et fideli nostro Ade Forstar, omnina hostilagie nostra de Traquare cum pretinenciis, infra vicecomitatum de Peblis, et annos testibus ut supra. Apub Edynburge, vicesimo quiinto die Junii anno gegui nostril duo-decimio."