Historic Corstorphine, its Christian History and
Subsequent Connections with the Forrester Family
PART 7
by Annette Hixenbaugh, Oklahoma Regional Commissioner
March 29, 2018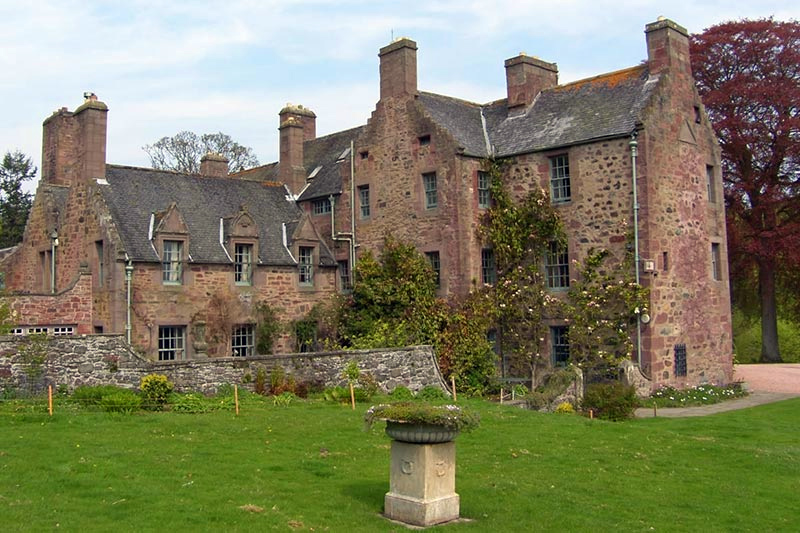 Church of the Holy Rude. A view from the churchyard.
Adam's first wife is said to have been Agnes Dundas of Dunkirk whose family owned Fingask in Perthshire. However, it was Fingask in Aberdeenshire that was most strongly associated with Adam. As auditor of the Exchequer, he made payment in 1383 to the Bishop of Aberdeen "de conno of the birgh of Edinburgh". That same year, Bishop Gilbert of St. Machar's, gifted the Aberdeenshire lands of Fingask in the shire of Daviot to Adam for the many benefits he and his predecessor had gained from Adam's support. Adam on his part was to give a silver coin yearly to the parish church of Daviot, Presbytery of Garioch, at the feast of the Nativity of St. John the Baptist. At Fingask there was a chapel dedicated to St. James and a holy well - Our Lady's Well, where people left objects. There is still a well at Wester Fingask - a healing well known as Lady's Well. In about 1800 when the foundations of a mausoleum were dug at Fingask, a silver crucifix was unearthed. Adam was active in Aberdeenshire affairs as late as 1403 when he witnessed a transaction made by Margaret Lindsey and Henry Preston concerning the Castle of Fyvie.
As an Ambassador on state affairs, Adam travelled widely between 1386 and 1405. He took part in 1386 in negotiations at Berwick. Then he was in France 1389. He was overseas again in 1395 with the Archdeacon of Glasgow. In 1395, he was a member of an embassy led by Robert Logan.
"Dec. 30, 1395 - Warrant to the Chancellor enclosing copy of safe conduct lately granted To Sir Robert Logan and Sir John Remorgny of Scotland knights, and;; Alexander Cockburn and Adam Forster of Scotland esquires til the Purification of Our Lady (Feb. 2nd), commanding him to prorogue the same Atil 1st March next. Chilterne Langeley (contains_safe conduct ut supra for them and 60 attendants)."
Twice in 1397, he accompanied John de Ramorgny on matters of the Realm. Adam's seal, appended to the document drawn up in 1397, between the English and the Scottish commissioners arranging a meeting betwe4en the Earl of Carrick, eldest son of Robert III, and the Duke of Lancaster, shows a "chevron between three hunting horns stringed." Presently the Forrester of Corstorphine arms are:
"Argent, three hunting horns sable, stringed gules, garnished vert. Crest: a hound's head erased proper, collared gules. Supporters: dexter a bloodhound, sinister a greyhound, both proper, collared gules. Motto: Blaw, Hunter, Blaw thy horn."; A distinguishing feature of Scottish Forrester heraldry is that the wide mouth of the horn is to the right as a person looks at the arms. On the English Forster, the mouth is on the left, although one rendition of the English coat of arms, shows the mouth on the right!
"*Indenture (in vernacular) between the four Scottish commissioners in Last Nov. and two commissioners for the King of England, Earl of Carrick, and Duke of Lancaster, either at Redenburne, Carham, or Haudenstand on Monunday the 11th March next Abbey of Dumfermline four tags, on which three round seals, red wax, remain. (1) A shield defaced trace of a fess (?)"
"Henry of Wardlawe and Adam Forsteer esquire with 24 horsemen to come to the King's presence and return. Westminster – Richard II 1397"
When the Duke of Rothsey took over as Guardian of Scotland in 1398, Adam was appointed to the special council set up to assist Rothsey. This led to his being sent with embassies to England and France. These official journeys required safe conduct passes and included form twelve to thirty knights. In 1399 Adam was called to the King's Council at Linlithgow. When relations between England and Scotland were hostile in July 1400 Adam went to York as an envoy from Robert III in an attempt to avert war.
"Indentures (in vernacular) at Haudenstank between Sir William Borthwic, Sir John Ramorgny, knights, and Adam Forster esquire, commissioners for Scotland and Sir John Bussy and three others, commissioners for England, agreeing for the return of prisoners and ransoms and due observance of the truce. The Earl of March, warden for the East March for Scotland, and Sir Henry Percy, Warden for England are bound for same by the respective letters......"