The Hillbilly and the Legend
A simple hillbilly like me doesn't get to meet a legend very often: a man you know but have never met; someone whose life work has impacted your life, or the life of someone you hold dear. It's rare to meet someone who surpassed the learned knowledge of his era, became a master in his field of cardiology, and is recognized by his peers as a true living legend. Such a man is Dr. James Stuart Forrester III, of Cedars - Sinai Medical Center of Los Angeles, California.
Oft times such an encounter is fleeting; you speak a few words as he signs a book or picture, and you never glean insight pertaining to what compels and drives true genius. After sitting and conversing with Jim for several hours, I understood completely - he truly cares about his patients, their quality of life, and mankind. His motivation is, and remains, compassion for his fellow man - this light still shines brightly in this 79 year old eyes. His contribution to medical science is known worldwide.
The Purpose
I met Jim in correspondence when he inquired, and later joined us, in our Y chromosome study. When his first panel of 37 came back I instantly recognized his sequence. He was closely related to another gentleman I consider genius in the engineering community, Roy Forrester, formerly of the U. K. and now of Pennsylvania. These men, along with a distant cousin, Neil Forrester of New Jersey, possess a very rare sequence downstream of I - L38. I would be remiss if I didn't mention an autosomal match to this group, Susan Schrade, whose tireless effort in research has contributed greatly to the ongoing work of documenting this family. I'm also compelled to disclose none of these people knew one another prior to genetic testing.
Roy and Jim graciously consented to next generation sequencing and analysis. The result was a new haplogroup of I -L38 now named BY14048 - this is a cluster of 26 matching novel variants. The span of time of this haplogroup covers an astonishing 4000 years or so without an intersecting participant - this is always exciting to a hopeless data junkie such as me.
The Surprise
Though their pioneering of a new subclade of I - L38 is news worthy alone, it may not be the most exciting news for many of our members. For our Forrester genealogists, their ancestors track back to familiar place names found in the works of Colin D. I. G. Forrester and John C. Gibson. Further research is required, but we may have found the genetic cousins of the lost Clan of the Torwood.
The Conversation
Jim, my wife Susan, and I engaged several topics. My cousin Nathan, and his lovely wife Tammy, also joined us for dinner the first evening. After overcoming the shock there were two Nathan Forristers, [don't worry, his medical training allowed him to overcame the temporary blindness rather quickly] I think Jim enjoyed the conversation of being raised southern the most. Hey... agriculture, spirit distillation and hog killing are after all, universal dinner time conversation topics for hillbilly country folk of Scots descent all across the nation.
For those who have never met a southern Scots hillbilly, we are the descendants of the American Revolution. Misfit, maverick and rebel are certainly proper descriptive adjectives of us; the words describe our way of life - we still guard our hard won freedoms which foster innovation. You meet us every time you visit our Clan Forrester tent at Highland Games. It's fitting Jim and his colleagues should be counted in our ranks as we all share this kindred spirit.
The next morning, the focus of the main topic was Y chromosome discoveries and research. Topics included scientific methodology and control, navigating analysis and Big Y reports, rough age estimation of divergence, comparisons through YBrowse, and much to my delight, conversation with someone who actually understands the subunits of nucleic acid nucleotides. You can imagine, nitrogen bases pyrimidine or purine, five carbon sugars, ribose or dexyribose and phosphates, are not typical topics of daily conversation. Through all of this I believe we each came away with a greater understanding of the Y chromosome and an appreciation of how the scientific method crosses multiple disciplines. [At least this hillbilly did]
I think Jim will agree and stress the importance of how next generation sequencing testing is quickly changing the knowledge of the migration and adaptation of mankind to their environment. I know it's settled in his mind the results are controlled and conclusive pertaining to paternal relationships. We both conclude we have only scratched the surface and there is much more to learn as compared to what we currently know.
The Parting
I was sad to drop Jim at the Atlanta airport. I could have picked his brain for at least another week. Our conversation is not over; it has merely shifted back to phone and e-mail. I am honored such a man would take time from his busy schedule to come and visit a simple hillbilly like me. I thoroughly enjoyed his company and the conversation of genetic Y research. Maybe he will consider another visit. I did invite him back to Atlanta for the Stone Mountain Highland Games this coming October with one condition - this time he has to bring his beautiful wife, Barbara. [I've seen her photo and she is a lot prettier than Jim]
Jim and Barbara are honored members of Clan Forrester Society. Jim has graciously donated a copy of his book, The Heart Healers - the misfits, mavericks and rebels who created the greatest medical breakthrough of our lives, to Clan Forrester. His book will be on our table for anyone to peruse at the Highland Games.
I'm fairly certain if I'm ever in Malibu, Jim and Barbara might afford this hillbilly a moments rest, reflection and a continuance of the conversation.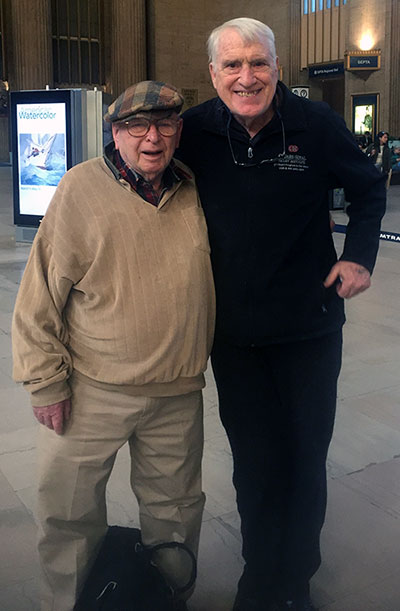 It's all about finding family. Cousins Roy and Jim meet for the first time.
The Conclusion
Genetic testing is not a cold analytical science. Its ultimate purpose is humanitarian. If applied correctly through the scientific method, it confirms relationships where none was previously known. It allows those reaching out to find those who are also seeking. It places flesh on the bones of ancestors long ago departed. I think Jim, Roy, Neil and Susan will agree. They have seen a glimpse of what this hillbilly has seen. I have met hundreds of my genetic cousins now, cousins with which I share a long ago common ancestor. I have looked into their eyes and in their faces - I see the reflection of my own.